2015 KMA Awards
For questions about KMA Awards contact Cindy Madison, cmadison@lexingtondoctors.org, (859) 705-0003.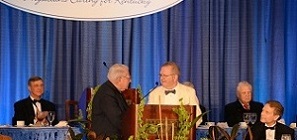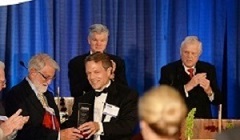 Brian T. Nolan, M.D. receiving the 2014 KMA Andrew R. Pulito, M.D. receiving the 2014
Community Service Award Educational Achievement Award
It is that time of year where we need to take time and honor outstanding achievement with the 2015 KMA Distinguished Service, the Debra K. Best Outstanding Layperson, KMA Physician Community Service, and Educational Achievement Awards . The award criteria and forms are below. Please submit nominations to LMS, lms@lexingtondoctors.org, NLT June 15.
Award Forms
KMA Distinguished Service, Debra K. Best Outstanding Layperson Award, KMA Physician Community Service Award
Educational Achievement Award